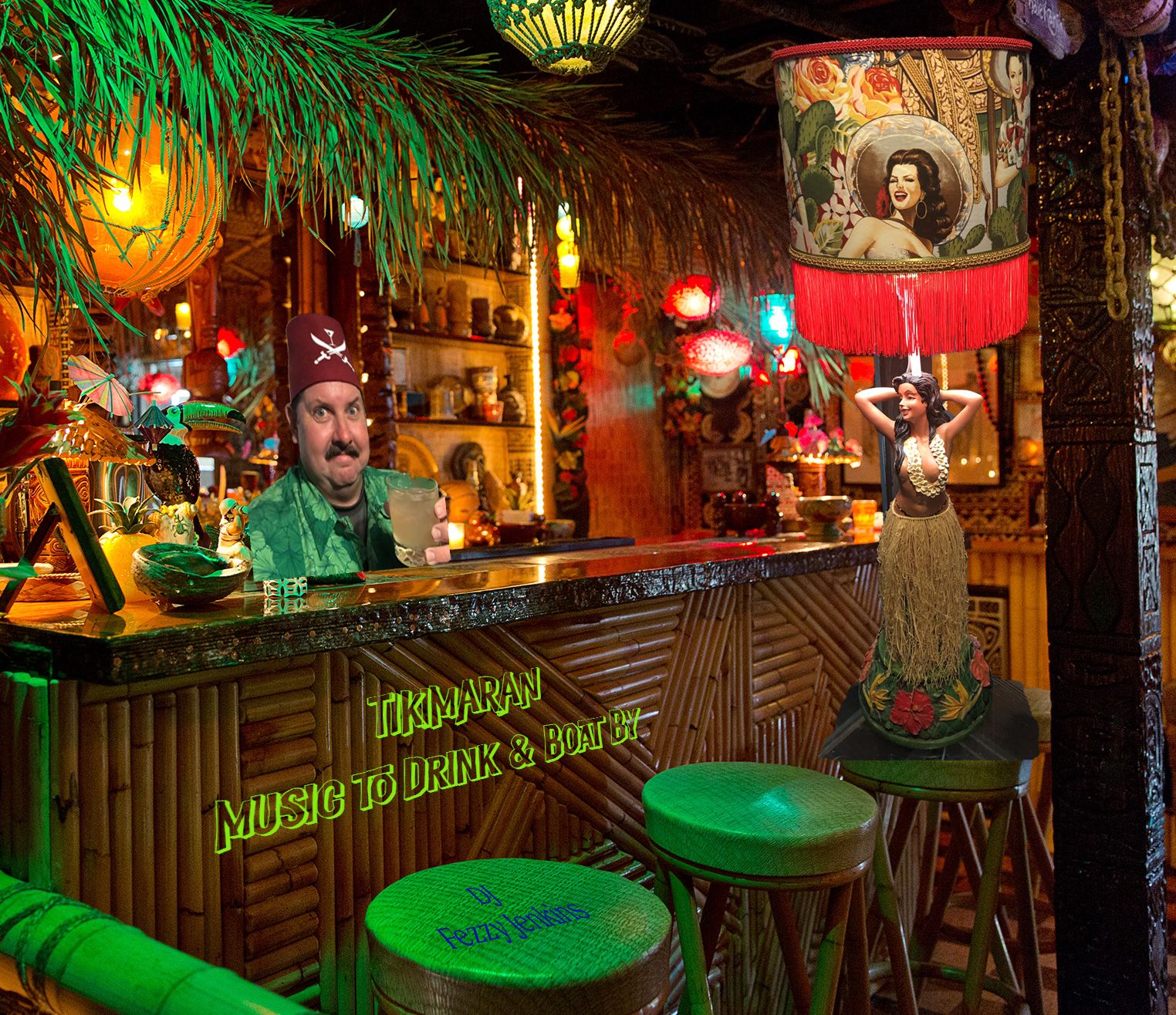 Aloha Friends & Cornswaggles! 
I made this special 2 Hour Mix, TIKIMARAN: A Tiki Adventure for the ears, soul, & Tooth Fairy.  I am DJing under the Special Alias DJ Fezzy Jenkins. I hope you will put on your Finest Aloha Shirt, Hula Skirt, or Tropical Birthday Suit, Mix a Cocktail and let your hair flow in the Trade Winds! 
Tiki Playlist 
1. Cubano Chan 
      Martin Denny 
2. Island Blues 
    Koop 
3. Gipsy Woman 
     Montefiori Cocktail 
4. An Occasional Man 
    Don Tiki 
5. Sleepwalk 
    Bobby Ingano 
6. Cancion de la Gata 
    Holger Eibl 
7. Bora! 
   Mocky 
8. Old Spice Commercial 
9. Wormhole Teatime 
    Figmore, Juicebox& 10.4 Rog 
10. Hilo Hula 
      Mike Hanapi &The Lima Islanders 
11. Tiger Phone Card 
      Dengue Fever 
12. Sittin Here 
      St. Germaine 
13. Carnavalito 
      Toubab Krewe 
14. Baby Outlaw 
      Elle King 
15. Maidenhair Fern 
      Don Tiki 
16. Taboo 
      Martin Denny 
17. Summer Sun 
      Koop 
18. Naughty Boy 
      Pan Ron 
19. Future Deserts 
      Tommy Guerrero 
20.  How the Sun Rose 
       Sweatson Klank 
21. The Red Needle 
      Danyk Don't Panic 
22. The Sound of the Islands 
       Myra English 
23. Agua pa Beber 
      Robbie Rivera 
24. Bang Bang 
      Rita Ora & Imanbek 
25. Technobloom 
      Nox Vaughn 
26. Sunrise Projector 
      Tycho 
27. Demba 
      TSHA 
28. On My Mind (Eastern Bloc Mix) 
      LEISURE 
29. Mou Pei Na 
     Sin Sisamouth & Ros Serey Sothea 
30. Llama Serenade 
       Martin Denny 
31. Bacoa 
      Martin Denny 
32. Beyond the Son 
      Koop 
33. Supernova Sky 
      Yukijobo 
34. Itchy Palms 
      Don Tiki 
35. Swedish Hula 
      Bud Tutmarc 
36. Nattergalen 
      Bobby Hughes Combination 
37. Flatiron 
       Suzanne Kraft 
38. Cumbia del Olvido (Montoya Remix) 
      Nicola Cruz 
39. Superstylin' 
      Groove Armada 
40. Bag of Jein 
      Kamandi